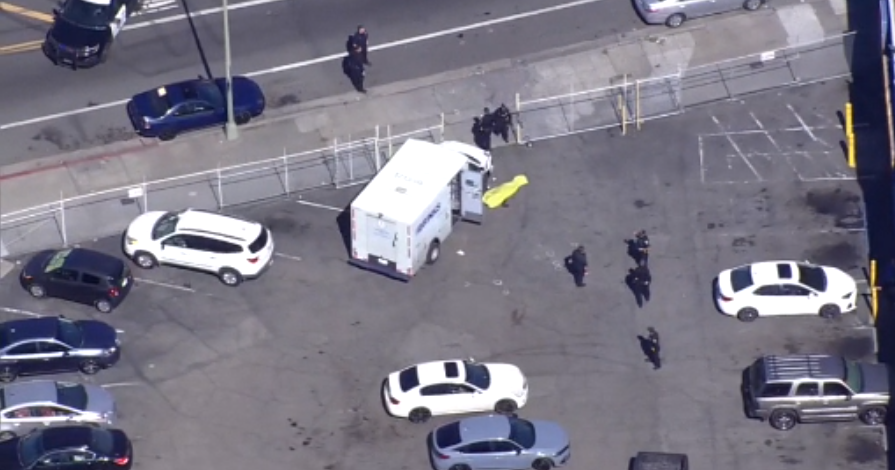 OAKLAND — A shooting in East Oakland during a robbery of a Brinks armored truck left one dead and two others injured Friday afternoon, police said.
The shooting happened near 44th Ave. and International Blvd. in the parking lot of a Napa Auto Parts store. Video from Chopper 5 showed a body covered in a yellow tarp next to the Brinks truck.
KCBS Radio reporter Alice Wertz tweeted that the shooting involved a shootout between Brinks employees and assailants.
Oakland Police Chief LeRonne Armstrong said during a briefing Friday that officers were called to the scene shortly before 2 p.m. When police arrived, they found two people with gunshot wounds.
Firefighters and ambulance personnel attended the scene, but one of the victims died on the spot.
The second person, whom Armstrong identified as a Brinks employee, was transported to hospital and was in stable condition Friday afternoon. Meanwhile, a bystander hit by gunfire arrived separately at the hospital.
"This is a terrible situation that has happened and is unfolding in broad daylight," Armstrong said.
The chief said investigators believe robbery was a motive for the shooting. The police and the FBI are investigating. It is not clear what was taken from the armored truck.
As for the suspects, Armstrong said they are looking for a white vehicle that was carrying "several persons". Additional information on possible suspects was not readily available.
Friday's shooting, the city's 92nd homicide of the year, was the latest in a violent week on the streets of Oakland that saw several fatal shootings.
"It's been a rough week in the city of Oakland," Armstrong said. "We ask the community to bring forward information to help solve these crimes. We also ask the community to continue to help get rid of the weapons that continue to plague our community.
A spokesperson for Brinks told KPIX 5: 'We can confirm that there has been an incident with the crew of a Brink and we are working with the police. At this time we have no further information to share."
.