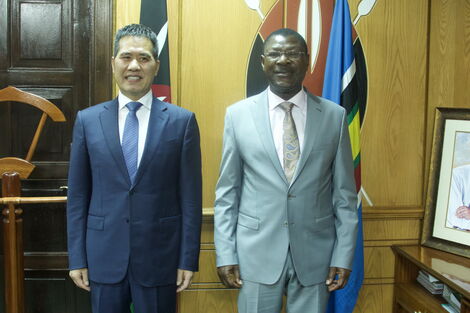 President William Ruto plans to further Kenya's diplomatic ties with China, despite fears of diminishing relations between the two countries.
National Assembly speaker Moses Wetangula on Friday, Sept. 23, announced Ruto's plans to improve Kenya's relationship with China, while debunking reports that the president would cut off the Asian nation.
Wetangula made the comments after meeting Chinese Ambassador to Kenya Zhou Pingjian in parliament buildings.
China, the speaker stated, is a major investor in Kenya and it would help the country achieve its development agenda.
Speaker Moses Wetangula and Ambassador Zhou Pingjian on September 22, 2022.
Twitter
Moses Wetangula
"China is one of Kenya's key national development partners and has provided significant support to our infrastructure development over the past decade.
"Assured him that the new administration of President William Ruto has no plans whatsoever to end our cooperation with the Republic of China," the statement read, in part.
He further added that the NA would take steps to further the relationship between the two countries through legislative cooperation.
"We will continue to pursue strong commitments and exchange high-level visits to strengthen our relations.
Earlier, after his inauguration on Sept. 13, Ruto met with Beijing Special Representative for African Affairs Liu Yuxi and noted that cooperation between the two countries on infrastructure, agriculture and education would continue.
Kenya's relationship with China was one of the main agendas that dominated the Kenya Kwanza campaigns with calls to wind the relationship. Kenya Kwanza accused China of stifling Kenya's economic growth with loans.
China was one of the largest lenders to the government of former President Uhuru Kenyatta, with debts of Ksh8 trillion during the Jubilee regime.
"We know the owners of the newly constructed Nairobi Expressway. We are telling the Chinese government that we will hold you and your companies accountable. Any government that makes loans and debt in the next two months is violating the constitution," Garissa said. City member Aden Duale stated.
Sentiments did not sit well with officials in Beijing, given the country's many investments in Kenya.
Projects carried out by China include the Standard Gauge Railway (SGR) and the Nairobi Expressway.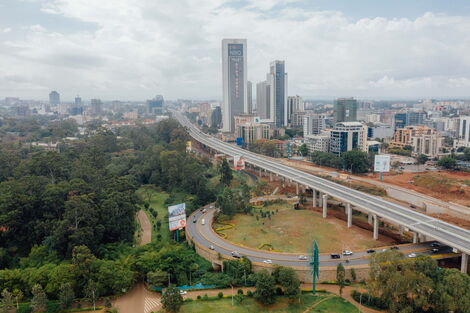 Nairobi Expressway Project near Chiromo Road Junction
Moja Highway