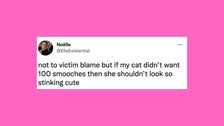 weft – it's been a long, long week. We don't have to tell you that.
You may feel like you've been working like a dog. If so, may we offer you the internet equivalent of a large pile of catnip? We're referring, of course, to another serving of hilarious pet tweets.
Every week we scour Twitter to find the funniest jokes and bon mots that our furballs are complete goofballs. They will surely make you cry.
(No need to beg for more, you can check out last week's batch here.)
.